Midweek Update 11/9
Subscribe to the Midweek Updates Newsletter to stay up to date on happenings at St. Joan of Arc and St. Thomas More Parish Communities
New Mass Schedule Starts New Year's Weekend
On Saturday, Dec 31st, STM will have its normal 8am Mass (does not count towards Solemnity Obligation)
On Saturday, Dec 31st, SJA will have the vigil Mass at 5:30 pm
On Sunday, January 1st, SJA will have Mass at 8:00 am On Sunday, January 1st, STM will have Mass at 10:30 am and at 4:30 pm
On January 2nd, we will begin the New Weekday Schedule:
Mondays, Tuesdays, Wednesdays – Mass at 8:30 am at SJA
Thursdays, Fridays – Mass at 7:00 am at STM
(Fridays when school is in session, STM will have another Mass at 8:15 am)
Saturdays, Mass at 8:00 am at STM
(does not count towards Sunday obligation)
Saturdays, Mass at 5:30 pm at SJA
Sundays, Mass at 8:00 am at SJA
Holiday Mass Schedule
Thanksgiving Day
Each church will have Mass at 9am
Immaculate Conception Mass Schedule
On Wednesday, Dec 7th, STM will have a vigil Mass at 6:00 pm.
On Thursday, Dec 8th, STM will have Masses at 7:00 am and 8:15 am
On Thursday, Dec 8th, SJA will have Masses at 8:30 am and 6:00 pm
Penance Services – Dec 20th at SJA and Dec 21st at STM both at 6:00 pm.
Christmas Weekend Mass Schedule
On Saturday, Dec 24th, both STM and SJA will have a vigil Mass at 4:00 pm
On Sunday, Dec 25th, STM will have Midnight Mass and
a Christmas Day Mass at 10:30 am
On Sunday, Dec 25th, SJA will have a Christmas Mass at 8:00 am
Thanksgiving Food Blessing
Following the 9 a.m. Masses on Thanksgiving, both priests will offer a food blessing for thanksgiving. Ideal is to bring a bottle of wine and loaf of bread to Mass. Other food (in small samples) is fine as well. Keep in mind it will be sitting the duration of Mass. Follow instructions at the church about keeping the food in your pew or placing it near the altar.
The Chosen Comes to Formed
The hit show, The Chosen, has taken the Christian world by storm since 2019. Season 1 is now available to stream on Formed.org, which is available to all of our parishioners. The series will be followed with a Catholic commentary series from the many theologians and scholars involved with Formed. If you have not yet experienced the phenomenon, I highly recommend giving the first episode a watch!
Pancake Feeds at Both Parishes this Month
St. Thomas More will have a pancake feed on Sunday November 13th starting at 8:30 a.m. and St. Joan of Arc will follow up the next Sunday, November 20th. A fun two weeks if you enjoy pancakes or want to get to know more of your parish family! See the bulletin or talk to a member of the Knights of Columbus for more details.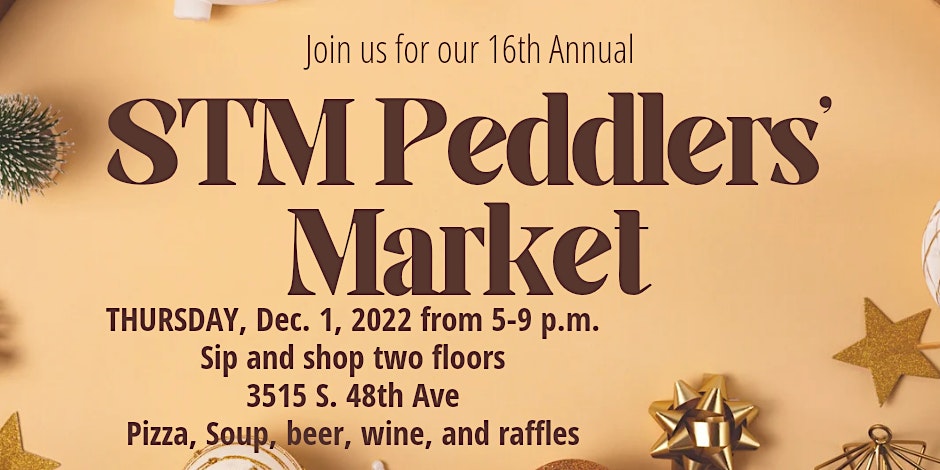 St. Thomas More Peddlers Market
Please join us for our 16th annual STM Peddlers' Market. We are hosting this on THURSDAY, Dec. 1st, 2022 from 5-9 p.m. This is a unique shopping experience with two floors of artisans and vendors. Shoppers will enjoy free admission, soup, and Orisi's Pizza. Sip on beer and wine while shopping.
If you are interested in being a vendor at this event, we still have some tables available. You can register here: https://www.eventbrite.com/e/st-thomas-more-peddlers-market-2022-registration or simply search for this event on Eventbrite!
Please Contact Sara McCandless with any questions you may have, 402.981.9941 or email stmpeddlersmarket@gmail.com.
Advent Mission Poll Results
I was pleasantly surprised by your feedback in my poll for the Advent Mission. We actually had more people answer the poll than I can view on the free version of Survey Monkey! The initial results showed a strong favor for a traditional mission with a service opportunity as a solid second. I will be meeting with our priests and deacons next week to put a plan together.
Please reach out to me at tjsimpson@midtowncatholic.church or (402) 507-5546 if you would like to be involved in running the mission. I am hopeful that if we have enough volunteers, we can also do a service opportunity and run the mission conjunctively at both parishes.
STM Scrip Pizza Contest
This year's contest starts Monday, November 7th. The classroom with the highest average amount of SCRIP (Gift Cards) purchased can win a classroom pizza party. There is also a weekly drawing for every person that makes a purchase that week (winner gets a $25 gift card). Make sure to include your STM child's name and grade anytime you purchase SCRIP before Monday, January 2nd.
Christ the King Novena starts November 11th
Sunday November 20th marks the Solemnity of Christ the King. You can join other Catholics in praying a novena to Chris the King on November 11th.
EWTN has a simple repetitive prayer to follow: Novena to Christ the King | EWTN
Pray More Novenas has a background on the feast and a prayer for each day: CHRIST THE KING NOVENA PRAYERS – Pray More Novenas – Novena Prayers & Catholic Devotion
Chris Stefanik in Freemont Wednesday November 30th
Are you struggling with joy? Have joy but want more? Wherever you fall on the spectrum, you will not want to miss Chris Stefanick coming to St Pat's to share part of his teaching on joy!
Chris will be here Wednesday, November 30 at 6:30 pm for a one-hour talk in the church, followed by Q&A and a book signing. Parishioners are also planning to share treats that bring them joy in Delaney Hall after, so be sure to mosey on down there and see what that's all about!
Register for FREE here: https://stpatsfremont.flocknote.com/signup/101832